Visual Recipe Cards
Regular price

Sale price

$29.99

Unit price

per
VISUAL RECIPE CARDS

🎉THE PERFECT HOLIDAY GIFT🎉
💗   48 KID-FRIENDLY Recipes that come in a box
💗   4 Categories: Snack Attack, Eat your Fruits and Vegetables, Sweet Tooth, and Real Meals
💗   Step-by-Step Visual Directions (5 STEPS OR LESS!)
💗   Diverse & Inclusive Characters 
💗   Supports Communication & Language Skills
Visual Recipe cards were created and designed by Kristine Deworocki. She is a speech-language pathologist, wife and mom who is passionate about using cooking as a way to support communication skills.  She hopes to inspire both kids and adults to have fun and create memories while cooking!
Visual Recipe cards are kid-friendly recipe cards with pictures representing all the ingredients, tools, and actions performed in each step of the recipe. Visual supports are valuable learning tools that help increase the understanding of language, encourage positive behavior, and provide structure and support.
They can easily be used in classroom settings, clinics, and of course, right in your own kitchen. Visual Recipe cards are perfect for SLPs, parents, teachers, educators and anyone who just enjoys cooking!
PRODUCT DETAILS
48 Visual Recipe Cards (front & back)
       -13 recipes are "no-cook" (no appliances needed)
       -14 recipes require a small appliance (microwave, blender, mixer, etc.)
       -21 recipes require a stovetop or oven (can be modified)
Insert which includes a table of contents, communication tips, safety information, and more.

Vocabulary Card with images for cooking language (front) and cooking equipment (back)

Color Illustrations & Descriptions on the front and back of the cards

Developmentally appropriate approach

Suitable for 3 years & up (with adult supervision)

Fun, intuitive & relatable

Kid and Parent-friendly 

Box: 5.50" x 7.25" x 1.25"

Cards: 5" x 7"

Cards are a thick laminate texture making them easy to wipe off 
For more shipping information, please refer to our shipping policy. If at any time you need further details, please contact us at kristine@livelovespeech.com and we will be happy to assist!
Share
Exceeded expectations!
I bought one pack for my daughter. Once they arrived she absolutely loved and I decided to order several more for upcoming birthday parties! My daughter is 8 and could make the recipes with pretty minimal supports!
Great!
I love the look of the cards! They are visually appealing to kids and the box contains a variety of simple recipes!
Ellie T.
You do not have to have children to LOVE these Visual Recipe Cards. The love, card, and passion Kristine has put into this product is evident right down to the shipped product's packaging. This resource is perfect for any SLP, educator, and/or parent looking to engage kids in an exciting, hands-on activity. I have made a few of the recipes that even appealed to my husband! I absolutely LOVE the Visual Recipe Cards. You have to see them for yourself- buy a set today and get cookin'!
Great resource
I love these recipes cards, not only for my kids but I use them for my post stroke patients and my older patients learning executive function skills to be more independent. Such a great tool and resource!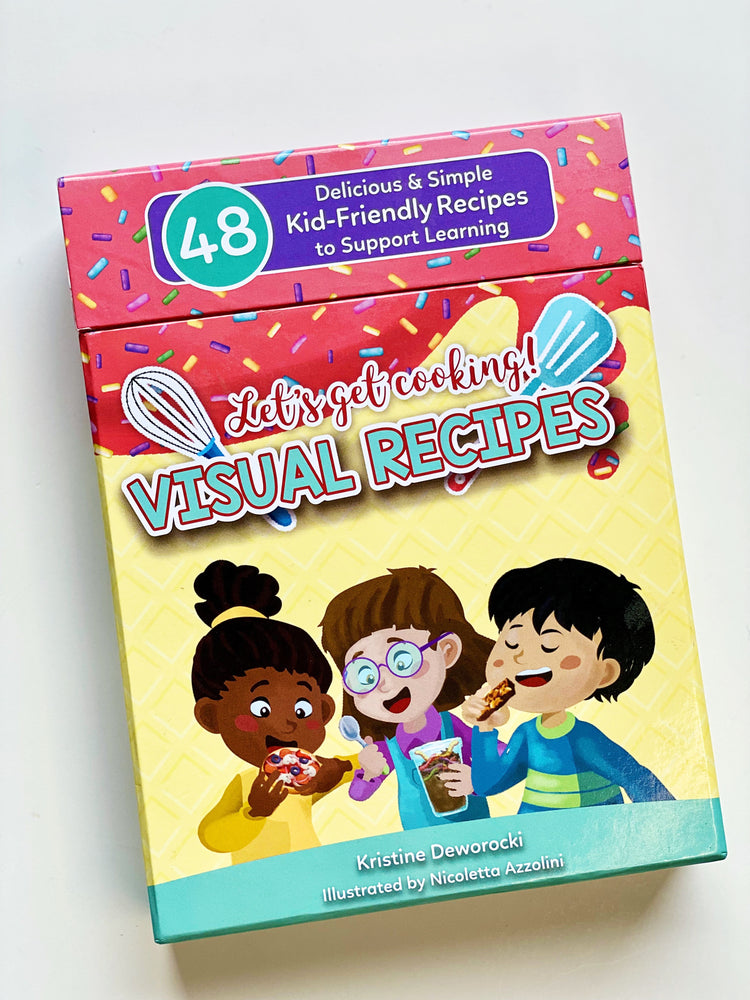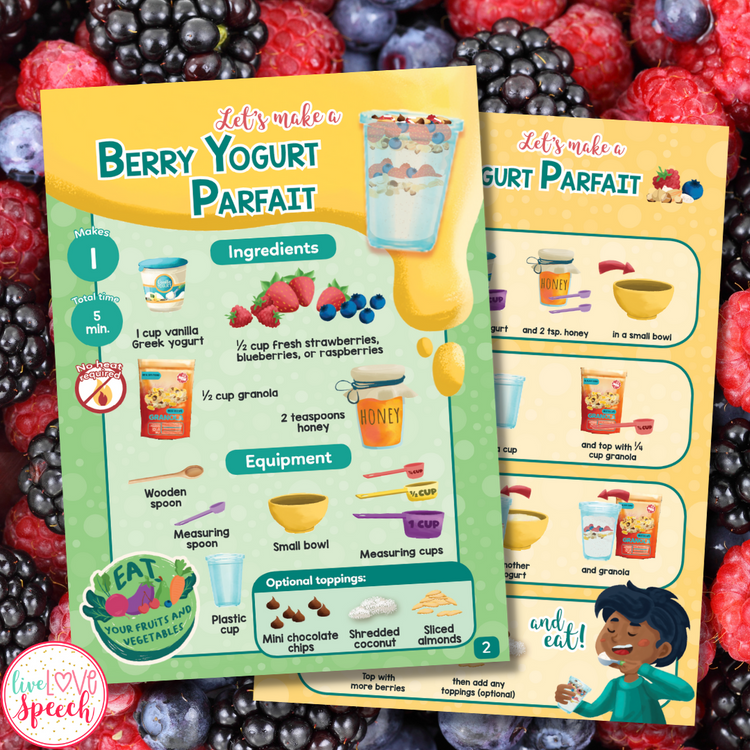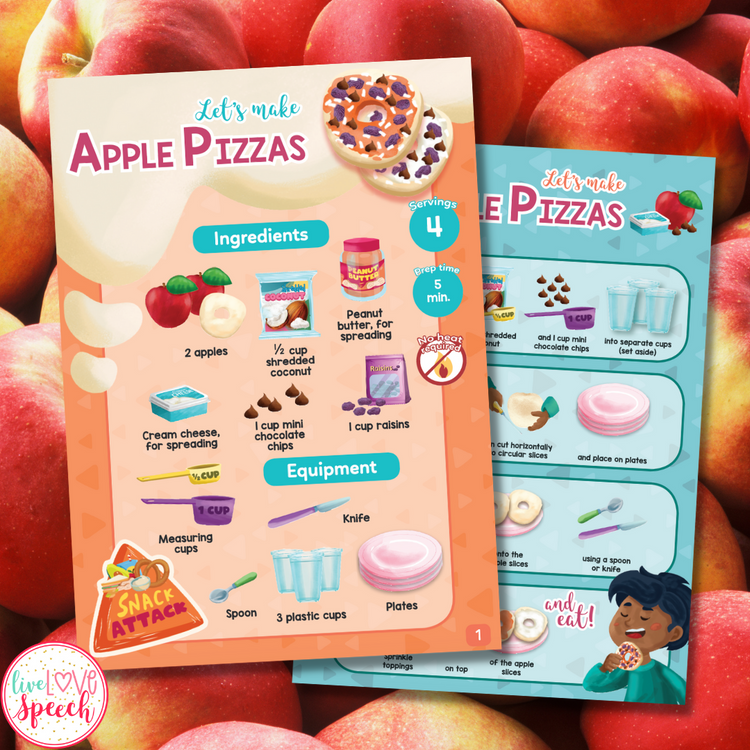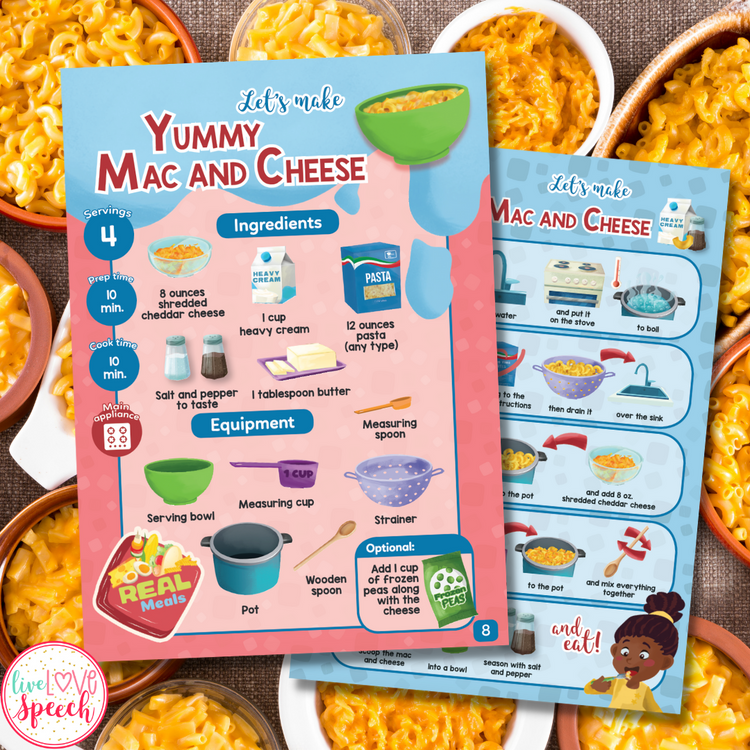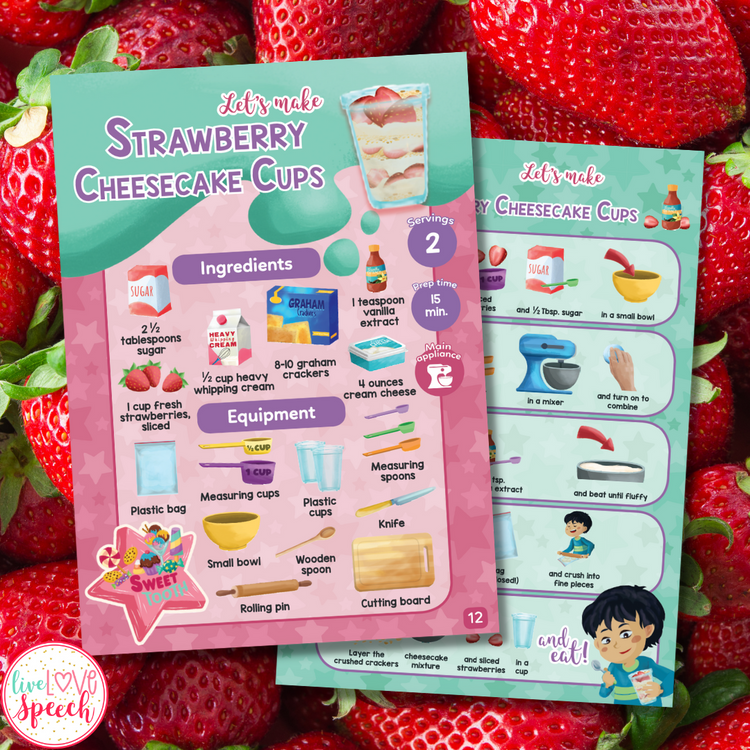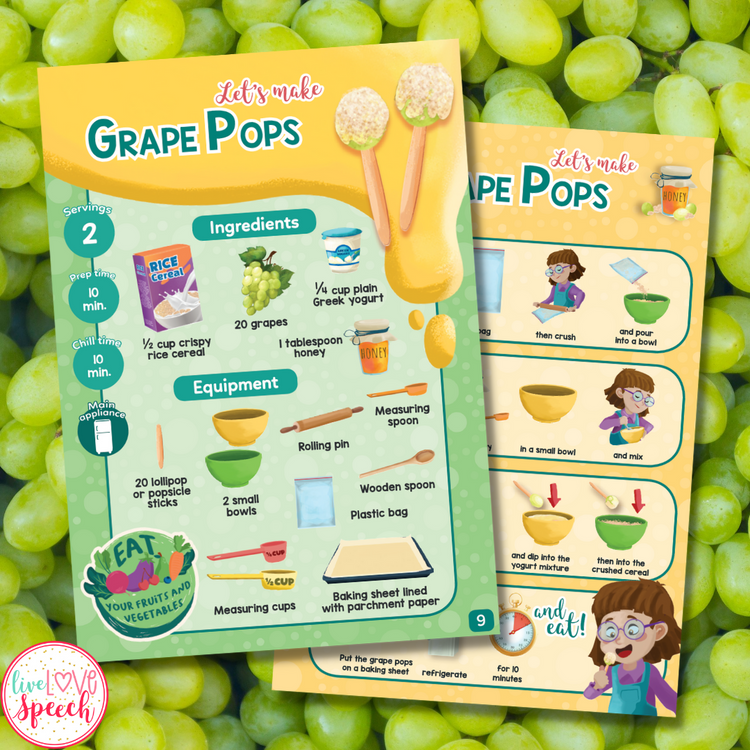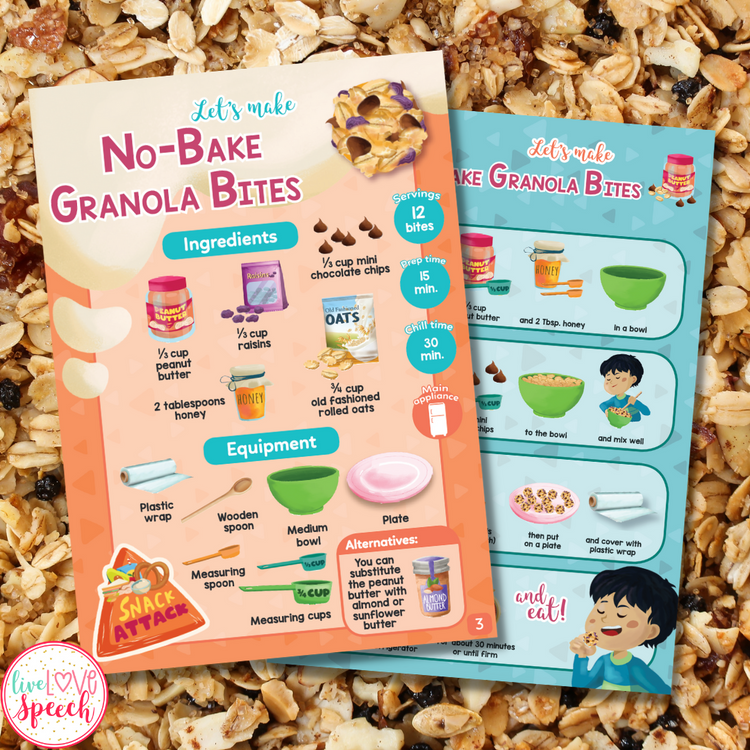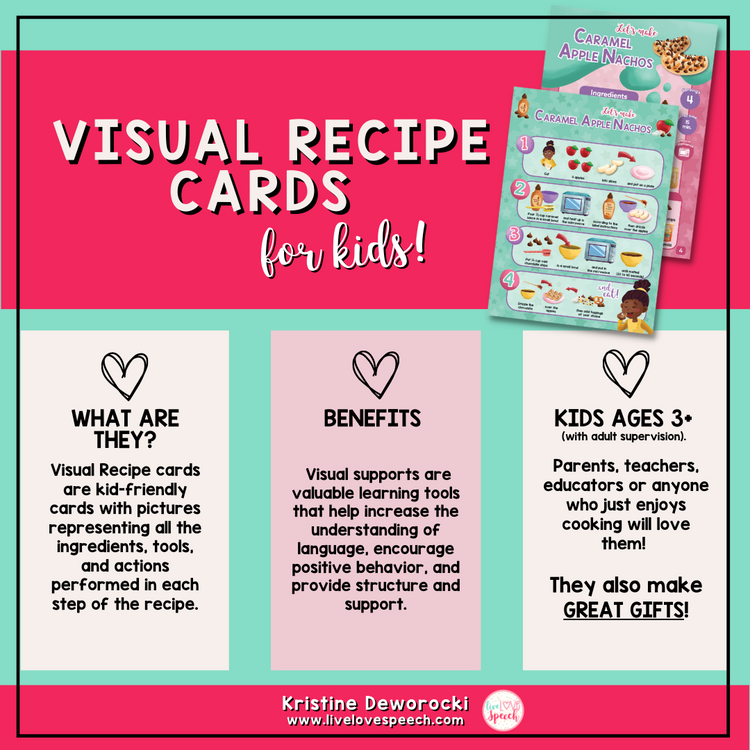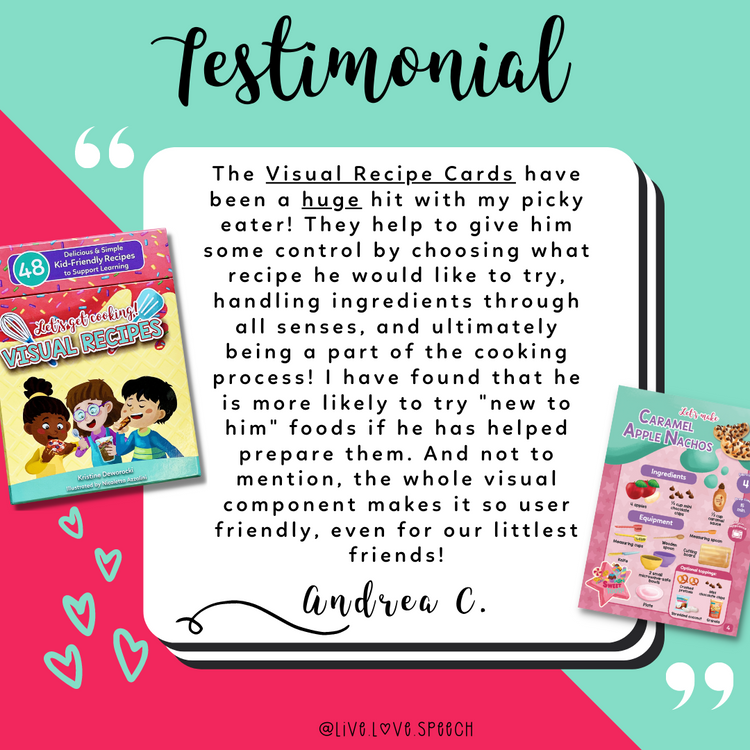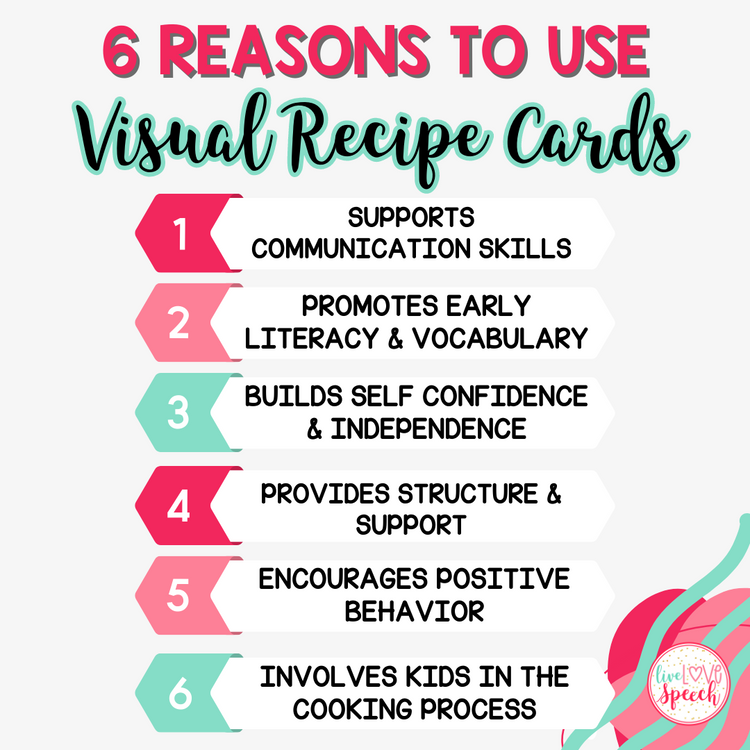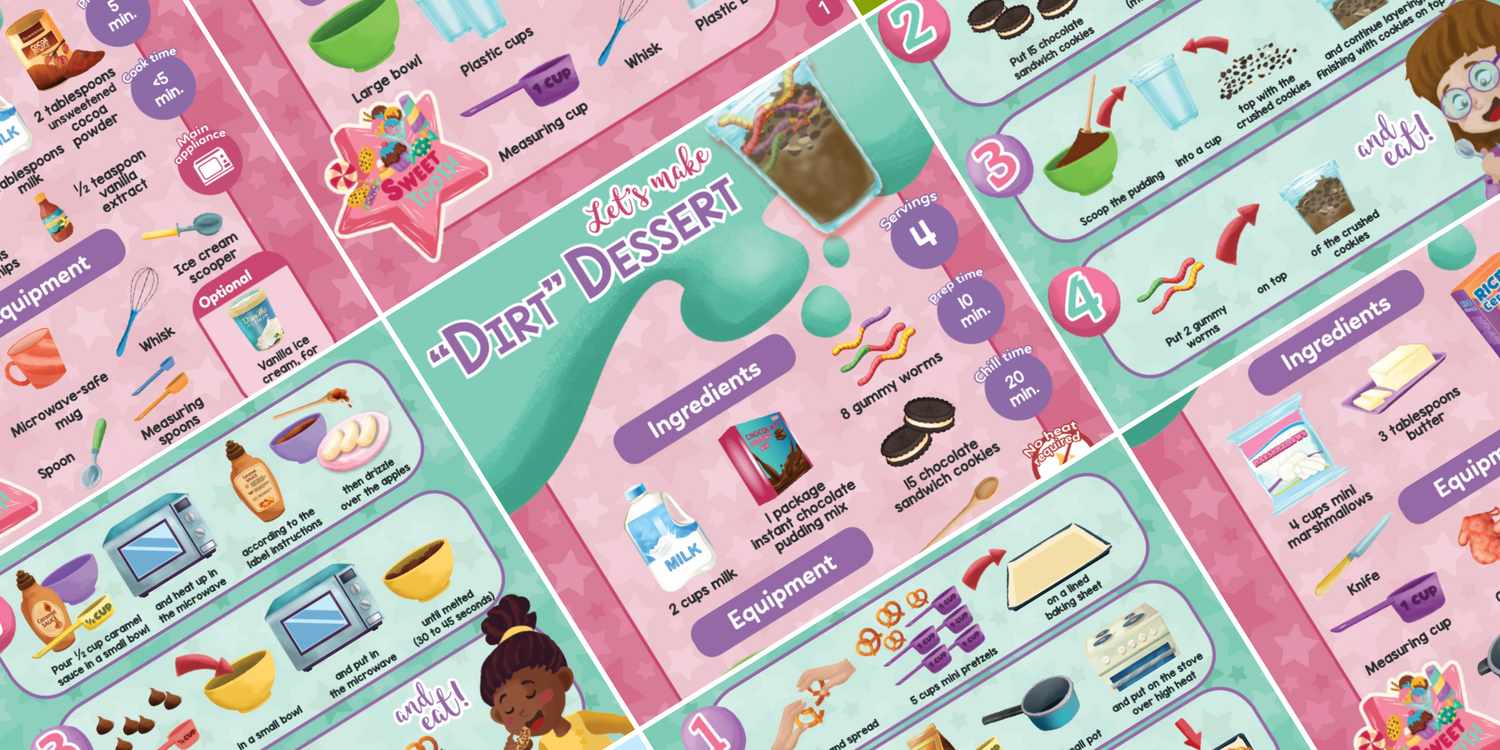 STEP-BY-STEP VISUAL DIRECTIONS
Cooking is such an important life skill especially when little kids become big kids! Learning about basic ingredients, cooking techniques, nutrition, and healthy eating happens naturally through cooking activities. Incorporating images for each action, ingredient, and tool makes it super easy for kids to prepare and create their own recipes!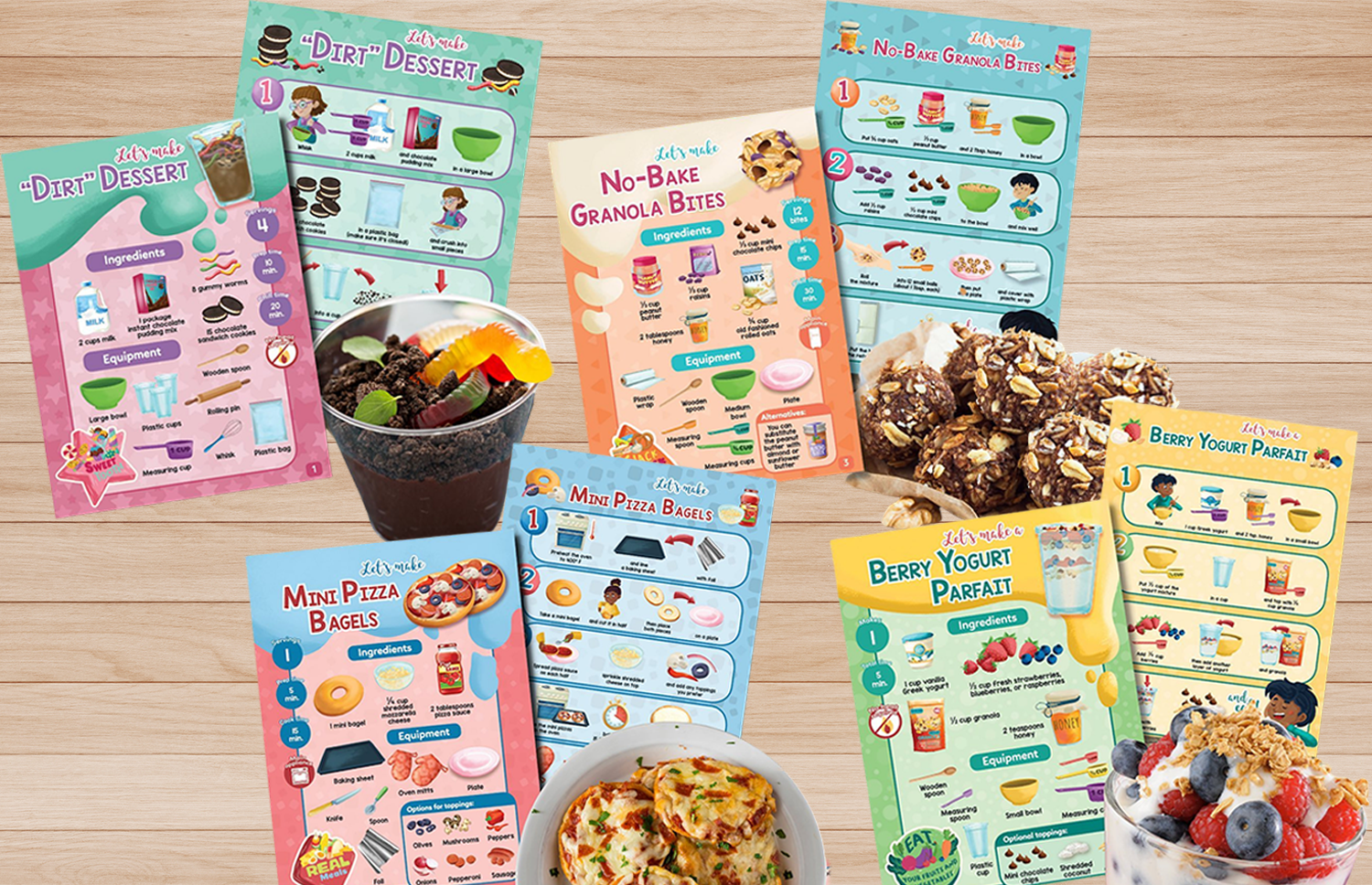 48 VISUAL RECIPES IN 4 DELICIOUS CATEGORIES
There are 12 recipes included in in each of the following categories: Snack Attack, Eat your Fruits and Vegetables, Sweet Tooth, Real Meals. While many of the recipes are considered NO-COOK, some DO require the use of an oven or stove. All recipes can be completed in 5 steps or less!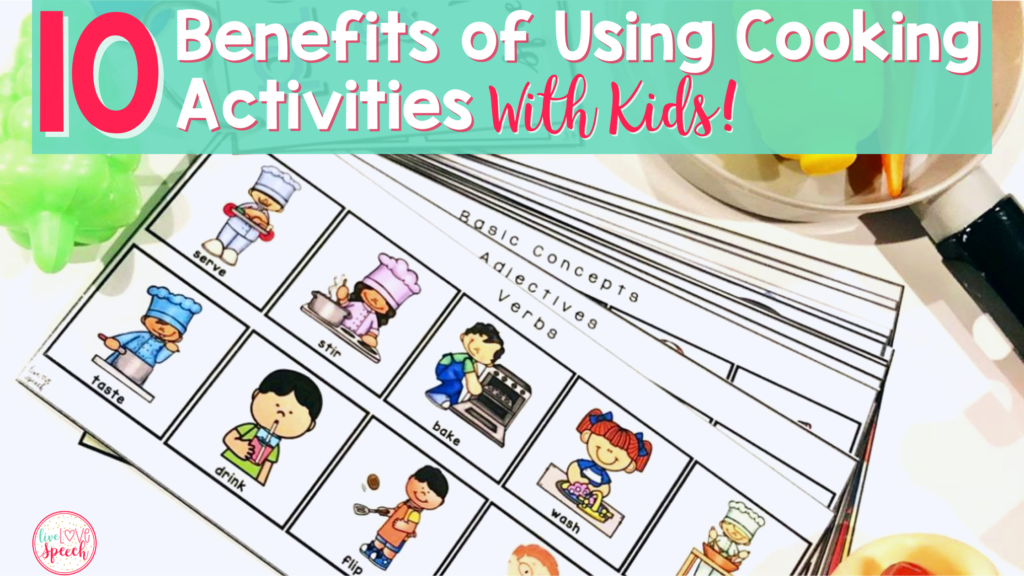 COOKING WITH KIDS!
There are SO many benefits to cooking with kids and I know it will make for engaged and excited learners in your speech sessions! Happy Cooking, Friends!
READ MORE
Follow us on Instagram @live.love.speech